The New Ulm Minnesota Project
The Minneapolis Heart Institute Foundation has been doing a variety of NEMS related work in New Ulm, Minnesota over the last few years.Click hereto see their poster of their convenience store program. They also have been doing an ambitious restaurant program. Late 2013, they completed a follow-up NEMS-R assessment and wrote a paper. Click here to read their paper.

The LiveWell EatWell Restaurant Challenge in Lawrence, KS (April 2013)
LiveWell Lawrence began the LiveWell EatWell Restaurant Challenge in late 2010. To date, 17 restaurants have accepted the challenge to offer healthy options for restaurant patrons. The program is managed and sustained by a WIC nutritionist at the Lawrence-Douglas County Health Department. The initiative rewards participating restaurants by promoting them and featuring their menu offerings in short stories posted on WellCommons, an award-winning community-journalism website that empowers local consumers and community health advocates reporting on and communicating about health and well-being issues that impact residents of Douglas County, Kansas.
To understand the relationship of food environments to eating and weight patterns, researchers need to examine accessibility of restaurants, but also factors that are believed to contribute to food choices in restaurants, including availability of more healthful foods, factors that facilitate or hinder healthful eating, pricing, and signage or promotion of healthful and unhealthful foods. As the program was originally designed, restaurants qualify for recognition by LiveWell required meeting several criteria including but not limited to the following: offering fresh, frozen or canned fruit; entrées prepared with lower-fat method (baked, steamed, poached, broiled or barbecued); offering smaller servings of entrées; offering lower fat or sugar free dessert options on menu; and providing a substitute for fried side dishes (e.g., side salad, vegetables, pasta salad or fresh fruit). This original program design is being modified as a result of an evaluation activity supported by the 2012-2013 CDRR grant. That activity resulted in the assessment of 56 Douglas County restaurants, including 17 that are currently participating in the LiveWell EatWell Restaurant Challenge. The assessment was completed using the nationally recognized Nutrition Environment Measures Survey for Restaurants (NEMS-R), which was recommended by the Dr. Anthony Randles, KDHE Physical Activity and Nutrition Program Manager. The NEMS-R assessment activity targeted current and prospective participants in the LiveWell EatWell Restaurant Challenge. As part of the 2012-2013 CDRR NEMS-R activity, a NEMS-R assessment report will be produced and provided to the 56 Douglas County restaurants evaluated in 2012. The analysis will summarize restaurant practices that facilitate or create barriers to healthful dining. The report will also identify opportunities for improvement in healthy dining.
Among EatWell restaurants, scores on the NEMS-R assessment ranged from a high of 17 to a low of 3 (excluding points allowable for kids' menus, which not all participating restaurants had). Higher NEMS-R scores are associated with health promoting restaurant environments. 24% (4 of 17) of EatWell restaurants scored 10 or higher: Jason's Deli (17), Carlos O'Kelly's (15), Applebee's (13) and Bambino's (10).
NEMS smart phone app related to NEMS-R scores developed for Cerro Gordo County in Iowa! (Nov. 2013)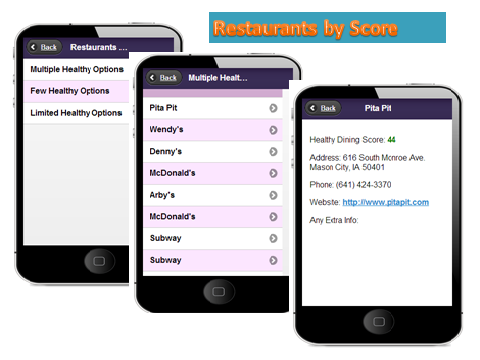 The Cerro Gordo County Department of Public Health, located in north central Iowa, has been using the NEMS assessment tools for many years now. They have recently used the NEMS-R tool to assess every restaurant in the county in an effort to encourage restaurant managers to enhance their restaurant environment through healthy strategies. They have put together a book explaining the NEMS-R tool, the restaurant's respective NEMS-R score, and highlighted a few strategies the restaurants could implement to improve their score and consequently provide a healthier eating environment for residents. Click here to see the NEMS-R Strategy Guide for Improvement that they would like to distribute to the restaurant managers.
To complement the NEMS-R Scores, they have released a Smart Phone App that utilizes NEMS-R scores in the county for public use when deciding where to dine throughout Cerro Gordo County. As restaurants improve, their scores will be updated. The public health department received funding through the Iowa Department of Public Health Community Transformation Grant. Click here to view Powerpoint presentation.
To see the Android version, click here.
To see the Apple version, click here.
Chenango Health Network NEMS Assessment (Nov. 2011)

The Chenango Health Network who is the lead organization of a local health planning group conducted NEMS assessments of restaurants in their area in Chenango County in rural New York in late 2010. If you'd like to read about their results,click here.
After reviewing the results, the group members developed The Restaurant project which is an ecological approach to healthy eating, uses evidence-based chronic disease prevention strategies, builds on community strengths and resources and, uses a logic model which enables partners to assess and evaluate progress. If you'd like to see their logic model, click here.
They launched The Restaurant Project which involves seven locally owned restaurants in different parts of this rural county. They have been working with the restaurants–adding and promoting healthy food choices and have started to promote these restaurants locally. These restaurants also have a strong community connection. The next step is to begin a broad community education campaign about eating out and ordering choices. They have been partnering with worksites/employers who have wellness activities underway. Other restaurants would like to participate but due to funding and staffing, they will have to wait.
If you'd like to learn more about this project, you can contact Tina Utley Edwards, Executive Director of the Chenango Health Network at tina@chenangohealth.org